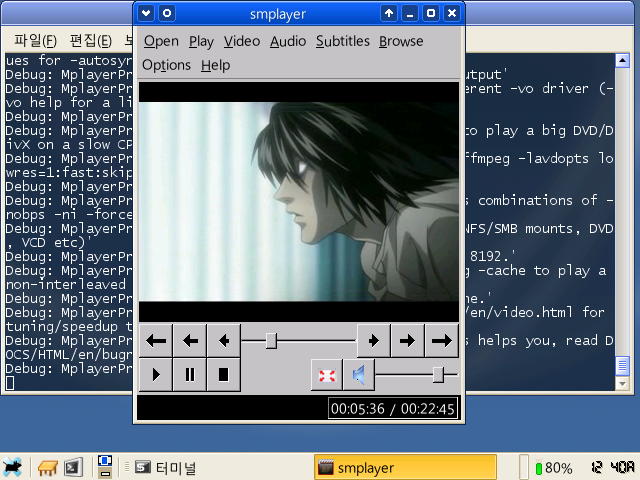 항상 pdaXrom에서 동영상을 볼 때 좋은 GUI가 없슴을 한탄해왔다.
하지만 얼마전부터
http://smplayer.sourceforge.net/
에서 smplayer가 개발되고 있다. smplayer는 qt기반으로 작성되어 pdaXrom에서 아주 잘 작동한다.
모든 옵션들을 메뉴에서 조절이 가능하고 꼭 필요한 기능인
속도조절
도 가능하다. 그리고 동영상을 보다가 중간에 멈춘후 나중에 다시 실행하면 보던 곳에서 다시 볼 수도 있다.
qt로 작성되어 처음 로딩할 때 좀 무겁게 느껴지지만 막상 플레이를 해보면 zaurus용으로 인코딩된 640x480(320) 해상도의 동영상도 끊김없이 잘 돌아간다.
아래는 제작자가 말한 기능들이다.
Play any video (avi, mpeg, mkv...) you have in you harddrive or external device (CD, DVD...). You may choose audio and subtitle tracks. Maybe the most important feature: it will save the current settings for each video, so when you play it later it will continue at the same point and with the same options.
It should be able to play dvd discs, including selection of titles and chapters.
It also can play internet streams.
It's possible to add black borders to 16:9 videos, so subtitles can be shown in that area.
Several filters, for video and audio, are available.
You can use the mouse wheel to move around the video.
Includes a preferences dialog, where you can configure all settings of smplayer.
프로젝트페이지:
http://smplayer.sourceforge.net/
버전업 되었다... 다운로드:

smplayer_0.1.18_armv5tel.ipk